INAUGURATION OF THE CSUG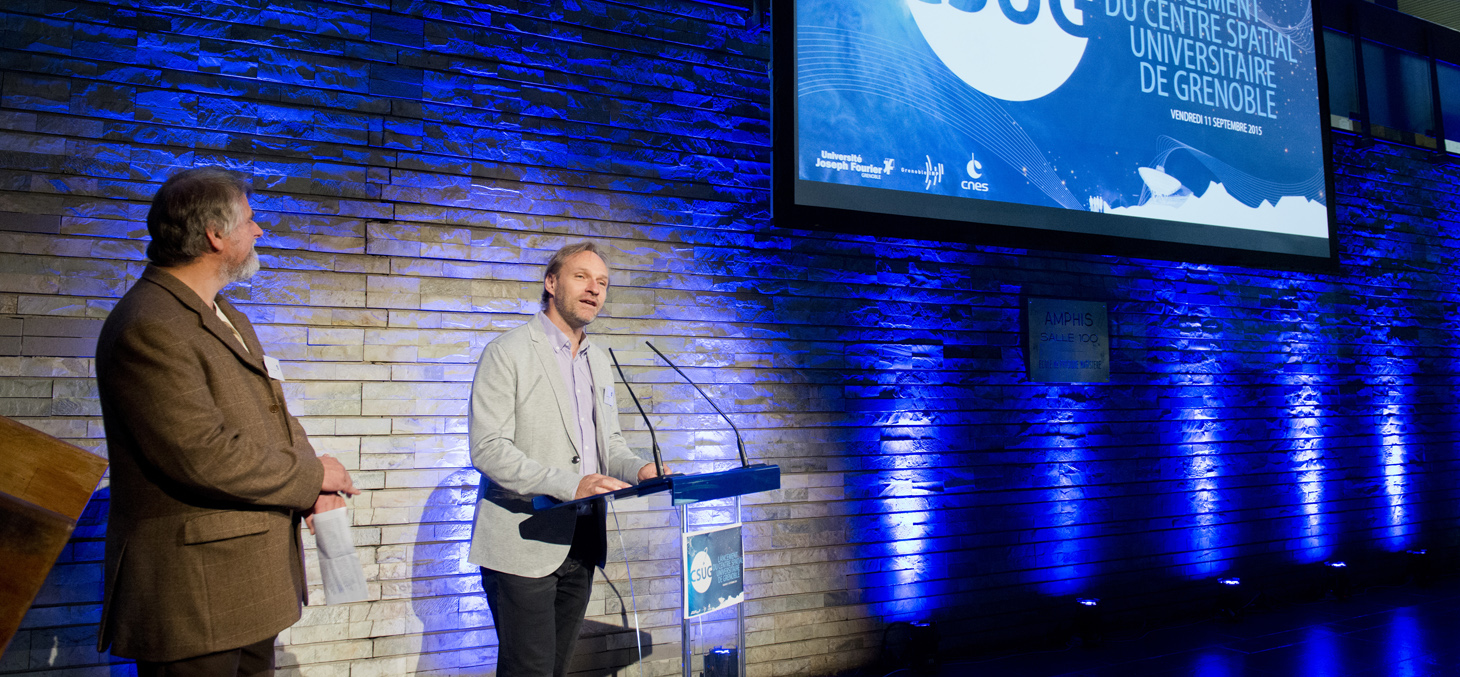 On 11 September 2015, Grenoble University Space Centre (CSUG) was inaugurated by Patrick Lévy, Chairman of the Université Grenoble Alpes Foundation, and Brigitte Plateau, President of Grenoble INP.
C'est lors de cette cérémonie d'ouverture que l'on a pu découvrir ce tout nouveau centre de recherche et de formation. En effet, le CSUG est une plateforme pour le spatial miniaturisé qui forme des étudiants qui sont amenés à travailler dans l'élaboration des nanosatellites.
Mais qu'est-ce qu'un nanosatellite? C'est tout simplement un satellite de petite taille dont le poids varie entre 1 et 50 kg. Ces petits gabarits présentent beaucoup d'avantages par rapport aux satellites de taille standard : ils sont moins gourmands en énergie et le prix moyen de leur conception s'élève à quelques millions d'euros (alors qu'un satellite standard coûte plus d'une dizaine de millions d'euros !). Leur fabrication est rapide (environ 5 ans) et permet de collaborer avec des entreprises qui apportent leur savoir-faire et leur technologie, c'est le cas pour Air Liquide qui participe à la première mission du CSUG.
Depuis une dizaine d'années la miniaturisation spatiale ne cesse de se développer et c'est sur cette tendance que se positionne le CSUG. Le directeur du centre, Mathieu Barthélemy, souhaite :
Placer le CSUG comme acteur central dans le développement de l'instrumentation spatiale miniaturisée en France et en Europe notamment en plaçant les étudiants au cœur de ses projets.
Développer les débouchés scientifiques de ces développements via les laboratoires du site grenoblois.
La première mission du CSUG : Zegrensat/ATISE a pour but de réaliser des mesures d'aurores boréales, airglow (faible émission de la lumière visible dans la haute atmosphère) et plus largement d'établir une météorologie de la haute atmosphère terrestre (entre 650 et 670 km d'altitude). Le lancement est prévu pour 2020 en collaboration avec le MIET, une université située à Zelenograd (Russie) spécialisée dans la microélectronique spatiale.
Published on December 13, 2017
Updated on December 13, 2017